A new version of WZCat compatible with Windows XP, Vista, and Windows 7 is being developed. Alpha Version 2 is available "As-Is" while we are working on it. This version requires Microsoft .Net Framework 2.0 to be installed on your computer. Any comments are appreciated. The current available commands will change over time.
WZCat is a utility program to locate and search Windows Zip Files. Have you ever forgotten where that file is you zipped and put away for safe keeping? This utility allows you to search the zip files on your computer.
Current Version.
2.0_0.9.3 (12/02/2011)

Final Usage Date set to 06/30/2012.
Minor Code Reorganizations.
Added: Registration Capabilities.
---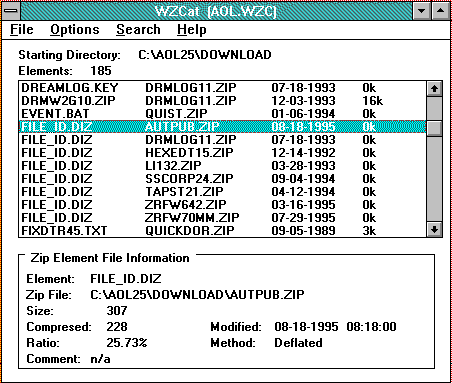 Typical WZCat Windows Appearance.
WZCat Windows 3.x program was written because I was having trouble keeping track of over 300+ ZIP files and over 2500+ compressed elements contained in those ZIP files. Because I had these files spread over several disk drives and dozens of directories, I would forget that I already had a file or element and would reload it from a BBS, and thus would have a duplicate copy of that file. Using WZCat, you can locate all ZIP files on one or all disk drives or a specific directory, see what elements are in those ZIP files, and even locate duplicate element names. Once you identify these duplicate elements, you can delete the ZIP file or files that hold them.
Requires VBRUN300.DLL.
Download shareware Program
Pricing
| Description | SKU # | Price US$ |
| --- | --- | --- |
| WZCat Registration Fee | wzcat | $10.00 |
| North American Shipping and Handling | shipNA | $3.50 |
| International Shipping and Handling | shipINT | $7.00 |